Sports betting is awesome. We have literally devoted our work lives here to covering it from all angles, and most of us are sports bettors ourselves, which makes the job a labor of love. But sports wagering as a form of entertainment is not always rainbows and unicorns.
On a good game day when everything is going your way, it feels like you're on top of the world and you can make no wrong wager. But the house usually wins over the long haul for a reason (vigorish!) as seasons bring winning and losing streaks.
A survey of friends of Sports Handle, plus our own experiences, produced this rundown of the frustrating side of sports betting — from chasing and other questionable decisions, to bad officiating, not getting paid, the "kiss of death" and much more. Mind you some of these items are self-inflicted wounds, but can be difficult to avoid. Have an addition? Hit us up at or send it to [email protected] if the suggestion was inspired by an experience so traumatizing you want to share it anonymously.
Bad Beats, Bad Coaching, Bad Decisions and Injuries: Sports Betting is Beautiful But Sometimes It Isn't
---
(1) Too much of a good thing — Between single game wagers, (multiple) fantasy teams, picks in pools, perhaps a parlay or teaser, sometimes people simply have too much action or too many competing interests. The result is a scenario where you're essentially rooting for and against everything simultaneously, producing an ambivalent afternoon on the couch, seeking a "magic bullet" or threading of the needle. This may make you question the purpose of what you're doing and ultimately life itself.
(2) Getting grabbed by "the hook" — For the uninitiated, the hook often comes into play when for example the spread is 3.5 or 6.5. Late field goals often determine winners and losers by the hook. For example, a late FG might bump the score from 23-17 to 23-20. This is why the hook exists, but it always stings to get your neck caught by that 0.5.
(3) The D/ST score when you're on the under —  A defensive or special teams score in the first quarter when you bet the under? That hurts. Bad special teams are a dagger. Know which teams have good coverage units, punters that pin returners deep, and which QBs are prone to passing to the opposition. Picks happen, but you have to factor the aforementioned risks into your evaluations. Defensive slogs are delightful when you're on the under!
After this pick-six, #Jaguars QB Blake Bortles now has 100 career touchdown passes to a combined 10 different NFL teams pic.twitter.com/bgAnNycHmU

— Tailgate Sports (@_TailgateSports) December 24, 2017
Sign Up For The Sports Handle Newsletter!
(4) Coaching buffoonery — Example 1A: The Colts fake punt under Chuck Pagano in Week 6 of the 2015 season against the Patriots. Oh, my. Relive it here (video).
(5) The kiss of death — When you 100% agree with John Monaco's stone cold lock, or any of his picks. He's your own personal Eddie Mush and if he's on your side, you can tear up the ticket before the game starts.
(6) Chasing — Successful sports betting requires discipline and self control. A willingness to accept a Saturday or Sunday in the red, even many units in the red. Avoid that Sunday Night or Monday Night Football forced action to try to get back. Save your bankroll to fight another day, or you will end up piling losses upon losses.
(7) Liars and jerks — "Touts" are a part of the sports betting ecosystem. Some provide good information for paying customers, and we don't grudge anyone at all who finds value in compensating another for quality handicapping services. But it is well known that many touts peddle nonsense and are full of shit about their records (83% hot streak!!). Some operate primarily as shady marketers — not honest purveyors of quality insights and information worth using to inform wagers/positions. Fortunately there are some good watchdogs out there such as Pick Monitor and Handicappers Watchdog that can help you weed out the scammers from the honest, legitimate, hard-working  cappers.
[Also See: How to Navigate the Sports Betting Information and 'Tout' Industry]
(8) Being in a place where you're betting against a friend — It can be unpleasant when you're watching a football game with your buddy and he has action on the opposite side. One of you leaves unhappy or threatens to kick the other out of the house.
(9) Not being able to get down — Some books will shut bettors out, typically pros and players who win, refusing to take their wagers. Or a book might reduce your betting limit without any justification. This is a tough pill to swallow for professional bettors especially (or those aspiring), who may prefer a book for convenience, low vigorish or otherwise.
(10) Not getting paid — Well, there's pretty much nothing worse on this rundown, and why we're excited about the legal, regulated market growing in the U.S.  Yes, people have and do get stiffed from bookmakers and bookies. There will be some drawbacks in legal markets, primarily high states tax rates on operators that may cause greater juice than players in black markets are accustomed to, but bettors can rest assured they'll get paid. There will also be consumer protections and mechanisms to legitimately dispute non-payments.
(11) The bad beat —  The inspiration for Scott Van Pelt's flagship sports betting segment and the most widely-recognized of all sports betting frustrations. But there's a difference between just sitting on the losing side of a wager and a bad beat. A beat beat is when you perfectly (or adequately!) handicapped a game and some flukish event(s) rips out the tablecloth protecting your cover.
One of the most memorable bad beats from the 2017 NFL season: Redskins were getting 6.5 points and trailed the Chiefs 23-20 with time (four seconds) for just one Washington play from deep in their own zone… when mayhem and laterals and confusion led to a Justin Houston loose ball scoop and a defensive touchdown that flipped both spread and the game total and yes, the outcome of a lot of fantasy football games as Yahoo!'s Andy Behrens explains below (box score here.)
"This might be meaningful to some," Monday Night Football announcer Sean McDonough said during the broadcast. He added, "We were told that the spread was 7."
Week 4's bad beat is 1 of the worst ever! Many can relate as 7.6% of drafted H2H Yahoo leagues won on KC's fumble recovery & TD #FFLBadBeats pic.twitter.com/x0YPwh1nPX

— Yahoo Fantasy Sports (@YahooFantasy) October 4, 2017
(12) Bad calls —  Referee, official and umpire blunders sting: baseless fouls or pass interference penalties breathing life and yardage into a drive on third downs, bogus helmet-to-helmet calls, a pitch that's obviously out of the strike zone resulting in a K, or on the flip side a pitch that paints the corner that's called a ball and causes a walk. Officials, like players, are known for certain tendencies (like a small or large strike zone), so be mindful of that when handicapping.
One of the best-known referee blunders occurred during the NFL referee lockout in 2012 in the Monday Night Football game in Week 3. On a Hail Mary from the Seahawks' then-rookie QB Russell Wilson to Golden Tate, the replacement officials whiffed on a clear offensive pass interference, then two refs raised arms indicating contradictory calls. Then they huddled and controversially ruled that the Seahawks and Packers players had simultaneous possession, giving the Seahawks a 14-12 win. Not surprisingly, the lockout ended soon after.
(13) On overtime, presented from a friend in his own words — "I actually hate that spread and total bets don't settle at the end of regulation, allowing overtime to decide the outcome.  I think if you bet a team +1 and it goes to overtime, you should win right then and there. Same with the Under bets. Moneyline bets of course should stay in play.  I realize this is an unrealistic request, as it would require a complete overhaul of book's handicapping process…but it makes sense to me." 
[Also See: 6 of the most common sports betting mistakes]
(14) The "I never lose guy" — He's not a dishonest tout but a friend or colleague who conveniently forgets all his losses and won't shut up about his remarkable winnings. Just nod, smile and walk away. This guy often doubles as the "analytics guy" who catches one tweet or blurb and claims he has a game solved.
(15) The medical cart — When the team you bet on loses their QB in first few minutes, or the starting pitcher gets pulled early on, especially for a hangnail or some similar vintage baseball injury. Injuries are a obviously part of the game, but brutal when they bite your bet early in a contest.
(16) Not getting the best number (courtesy reader Gary): "I hate when I think I've handicapped a game to the max and take an early large (for me) position on team +3.5, and then I watch the betting screen in horror as the line moves to +4, +4.5…and closes +6 after later sharp action."
"You feel like your bet is lost before the game even starts because of all the value lost. And then you have to decide if you want add more at +6 while trying to figure out what you may have missed. I've found out the hard way that the 'gift' that 'keeps on giving' is usually a loser. Line moves are sometimes difficult to predict and interpret. But you do feel like a genius when they go your way!"
(17) When people who don't like sports betting complain about it — Guess what? We all have different hobbies and forms of entertainment. I (Smiley) would rather chew dirt than spend an hour or five minutes in an art museum. Call me uncultured but I have tried and it was painful. (History museums are a different story.)
So, sports betting is the primary thrill and enjoyment for some folks. Expanded legal sports betting in the U.S. is indeed going to lead to greater media coverage and prompt new website verticals (it already has), but some people need to chill out with proclamations such as "Welcome to Our New Gambling Hell, Sports Fans." Sports betting is not a new thing and broadcasters are not going to make it a coverage focus. It is not in Europe where legal books are widespread. The game is still the game, which is what attracts bettors in the first place and likewise what they enjoy most. (Well, in addition to winning tickets.)
(18) Losing the last leg of a parlay — Multi-leg parlays can be very profitable and thus are enticing, because you can bet a little to win a lot. Some people get very lucky and hit big multi-leg parlays. Of course parlays are much harder to hit because they require correctly predicting outcomes of multiple wagers, plus a dash of luck.
If you hold an eight-leg parlay and the first seven legs hit, a flood of nervous excitement will ensue. Losing on the last leg of a parlay can be soul-crushing.  That is, unless you hedge, which at least provides a consolation prize if the parlay busts.
The house ends up paying out some six-figure wins but overall they clean up on parlays, typically holding around 30 percent on such wagers. No points for coming close — that only counts, the saying goes, in horseshoes and hand grenades.
Congrats 🎉 to the winner of this 10-Leg College Basketball 🏀 #Parlay!

$75 x's TEN OVERS = $54,000 ✅#DUKEvsSJU OVER + #OKSTvsKU OVER + #ARKvsLSU OVER + #UNCWvsNE OVER + #DREXELvsWM OVER + #OLEMISSvsTENN OVER + #OUvsTEX OVER + #GUvsXU OVER + #UNLVvsBSU OVER + #EWUvsPSU OVER pic.twitter.com/SrJWgN4q42

— William Hill US (@WilliamHillUS) February 4, 2018
(19) Overestimating the Cleveland Browns  — They were 4-12 against the spread last season. They were 4-12 against the spread in 2016. As you know they were 0-16 outright in '17, following a 1-15 campaign in 2016.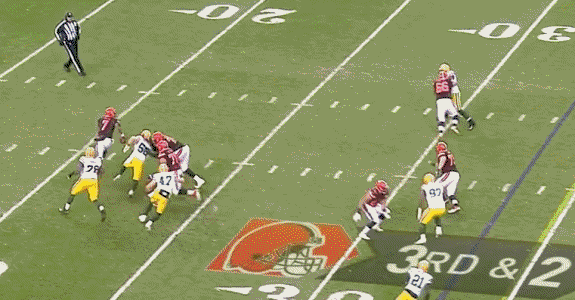 So that's a league-worst 8-24 ATS in two seasons and an astonishing 1-31 straight up in head coach Hue Jackson's two seasons… making all but one moneyline wager a loser for those willing to plug their noses at Cleveland +200 or +500 or whatever number. Will this season be any different? The defense should be improved and the offense a bit too with either Baker Mayfield or Tyrod Taylor under center (but without their Pro Bowl left tackle Joe Thomas). Still, poor coaching may vex this squad. Tread lightly.
(20) A coach who won't go into the night gracefully —  It's not fun when you bet the under on an NCAA tournament game (or any college hoops game) — and when the a contest is effectively but not officially over, the the coach won't concede defeat and calls for players to foul in the waning minute, pushing the total over.
Have an addition? Hit us up at or [email protected] if the experience was so traumatizing you want to share anonymously.