Sunday's Eagles-Chiefs game was objectively one of the best Super Bowls ever, and it was also — very objectively — the sports betting event with the most geolocation checks ever, according to GeoComply.
Over 100 million geolocation checks were logged in states where online wagering is legal. This marks a 25% year-over-year increase, according to a press release from the company.
"Super Bowl LVII was a record-breaking event," said Anna Sainsbury, CEO and co-founder of GeoComply. "GeoComply data reveals that Americans' interest in legally betting on the Super Bowl has never been higher."
The game, which took place in Arizona's State Farm Stadium, marked the first time the Super Bowl was played in a state where sports betting is legal. To that end, there were over 100,000 geolocation checks in and around the stadium from over 8,000 accounts. (While GeoComply works with the majority of legal American sportsbooks, these figures do not represent the entirety of the U.S. betting market.)
"It also showed that many fans at State Farm Stadium embraced their newfound ability to bet while watching the game in person," Sainsbury noted.
Nationwide, New York led the way, with 13.9 geolocation checks over the course of the weekend, followed by upstart Ohio at 12.5 million checks. Pennsylvania, New Jersey, and Michigan followed, with 11.8 million, 9.1 million, and 7.5 million checks, respectively.
Additionally, GeoComply detected activity from 7.4 million individual accounts over the weekend, a 32% increase from last year's Super Bowl. 
Sign Up For The Sports Handle Newsletter!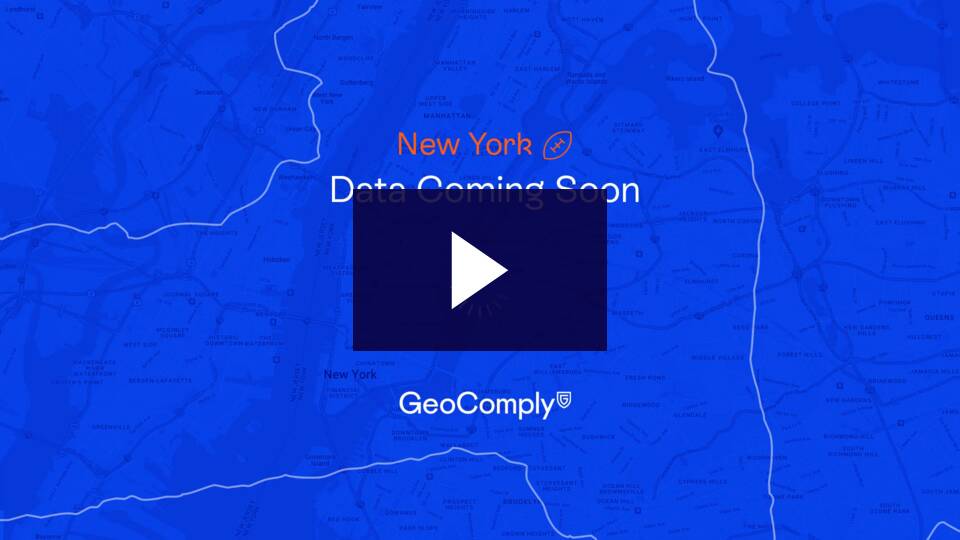 2023 The Big Game Pindrop Maps – GeoComply
Log on? Log off
Much to the surprise of geographically challenged people everywhere, the "Kansas City" in the Chiefs' name correlates with the Missouri version (population 508,000) of the municipality and not the Kansas version (population 154,545). As a result, there were 2.2 million geolocation checks in Kansas, where sports betting was legalized in 2022, but there were also over 250,000 checks in non-legalized Missouri, as residents there attempted to access legal sportsbooks elsewhere and were blocked from wagering.
GeoComply also logged and blocked over 140,000 fraud attempts.
"It's no secret that online fraud is a growing concern across all forms of e-commerce," added Sainsbury. "Online sports betting may be a target for fraud, but because every bettor must verify their location, the industry has the data to stop it before it starts. GeoComply is proud to be a cybersecurity asset to the industry."